With over 60 million golfers playing an average of twice a week, golf is an excellent form of exercise. Golf can extend your life by 5 years.
The health benefits for golf are often over looked. This has been the case for many years. BUT in 2018 the International Society of Health and British Journal of Sports Medicine explored to understand the benefits of golf.
Golf can extend your life by 5 years
It turned out that actually golf makes you live longer! In fact almost 5 years longer!
The main benefits can be spilt into two categories, physical and mental health. Both which are equally important in life. They also both improve the quality of life. So next time you are told you play too much golf, make sure you highlight that actually you are extending your life and making the world a happier place too.
Physical Health
As a well as improving the longevity of your life golf also has been shown to reduce the risk of cardiovascular disease. This means its good for your heart.
A round of golf allows a player to get a sustained level of moderate intensity exercise, while also getting the added benefits of 'green exercise'. Exercising outdoors or 'green exercise' has been shown to be a more beneficial form of exercise. It is suggested that you should play a minimum of 150 minutes per week.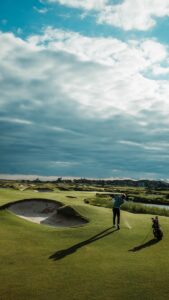 The fact that you can continue to play into your older years means that you can have a consistent exercise routine for many years. Even if you are a spectator at a major event, you are still getting the walking benefits of walking the course.
With additional benefits of adding strength and/or balance to the older golfers. Although this is still needs more evidence to prove this further, it can be suggested that golf also improves coordination and muscle activation.
Golf is also seen as a moderate injury risk sport. This means that regular participation doesn't not require that many visits to the physio. Although our advice is that you correctly warm up before you play and practice to avoid the moderate risk of injury.
Due to the sport being played into our older years, it is seen as suitable to return even after major joint replacement surgeries of the hip, knee and shoulder.
Mental Health
Golf is a social sport. This camaraderie between social club golfers or the competitive side of golf has been shown to improve social wellbeing. This is good for a golfers mental health.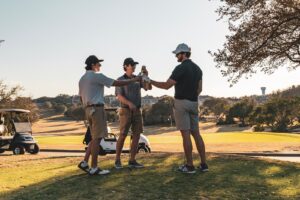 There could also be an argument that a golf course also brings together people of all ages and backgrounds. This social interaction also adds to improve the thoughtfulness needed to engage in these situations.
The sport it self needs concentration, consideration and memory to complete a round. These all help keep the brain stimulated and active.
Benefits of playing golf
Golf is good for you. It has lots of physical and mental benefits. As we have commented in other articles that if you play too much too soon or are making drastic swing changes it can increase the stress on your body.
Therefore, making good choices when altering or increasing your game should be considered. Overall the sport is safe and a great form of exercise.
Make sure you look after yourself on and off the course too. Eat correctly, sleep well and drink lots of water.
It has been shown that golf improves your mental and physical wellbeing. Also, golf can extend your life by 5 years .
Therefore, the key message is Play MORE NOT less
Unfortunately, the down side to playing more golf can be injuries. To prevent these why not read our blog on the Overview of Injuries or our 3 part series on lower back pain and golf, Why golfers get lower back pain and playing golf with lower back pain  
Or feel free to visit our website or you can book an appointment online here