3 simple tips for designing a running training program
Having a plan is essential in the lead up to a race. However, it's difficult to wade through running jargon and find an effective strategy. Here are some tips to help you design a running training plan that works for you.
When it comes to running training plans, there's no one-size-fits-all approach. Running is a very individual sport, and everyone will respond differently to training methods. Finding a strategy that brings out the best in you is the goal, but this doesn't come without practice.
One of the difficulties runners have when designing a running training plan, is making sense of the plethora of terms that are often discussed online. Many of these terms are referring to similar things, which muddies the water when it comes to knowing what you're trying to achieve. 
In any sport, effective training plans typically have a clear focus and build towards your targets progressively. Running is no different – before we can design an effective running training plan, it's important to know what your goals are. Ideally, these should be more specific than just completing the race. Having a more specific target, such as time to aim for, helps us to plan the intensity of training sessions.
Once we know what your goals are and what you're hoping to improve on, we can create sessions that are focused around making those developments. This is where intensity comes in. The graphic below outlines the benefits of working at different intensities, and offers some guidance as to how interpret some of the common terminology.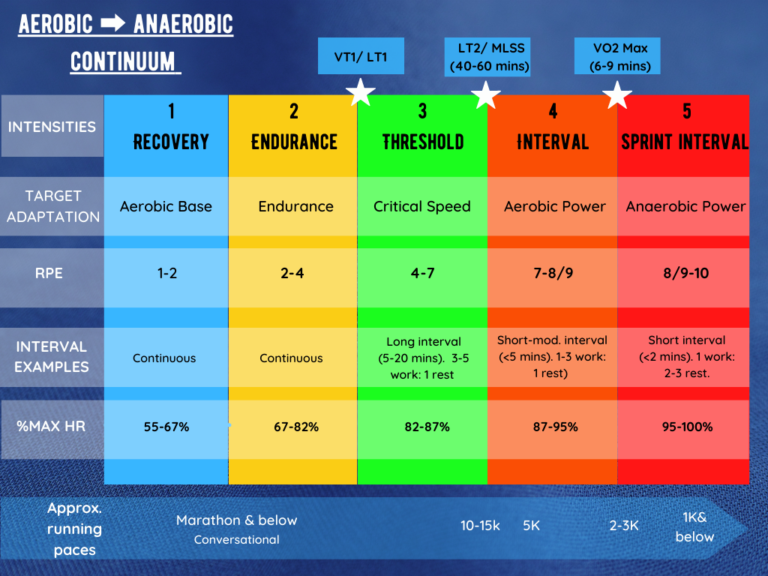 Now you've got an idea of what different intensities for running training might look like in practice, here are our 3 tips to consider when designing your own running training plan!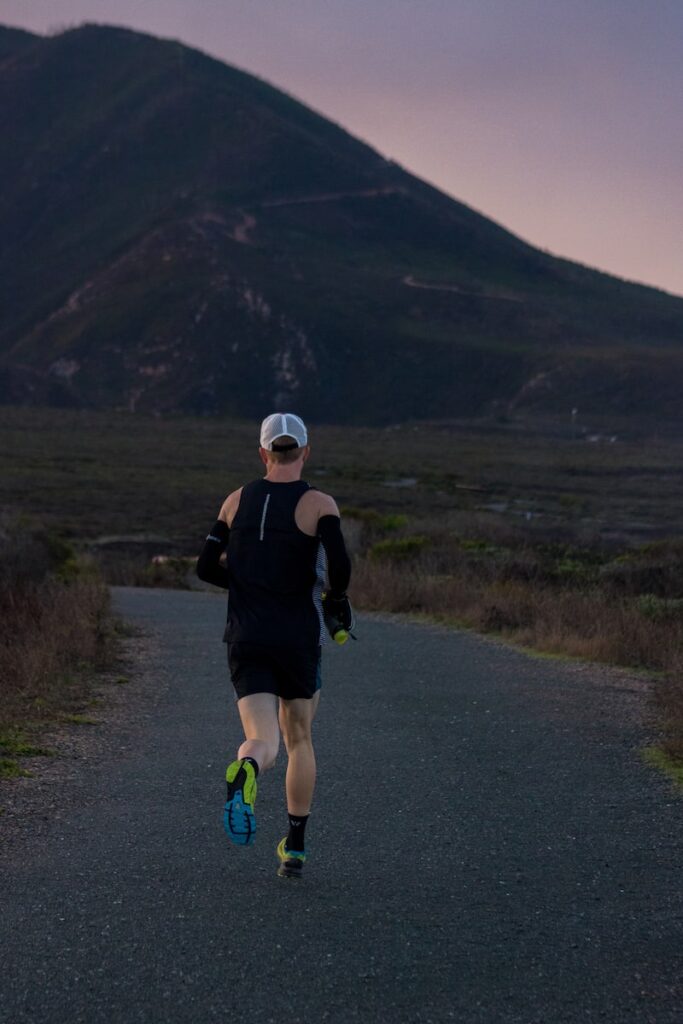 Regardless of the length of your event, building a strong base level of fitness is important in maximising your performance. Our 'base' refers to our ability to keep exercising over a long period whilst oxygen is readily available.
Think of your base like the size of your engine. If you can build a bigger engine, it's then easier to work at higher speeds without depleting yourself. 
Base fitness can be developed at very low exercise intensities. This means it's important to allocate a good chunk of your weekly volume to easy, conversational pace runs that will maximise aerobic benefits. 
Training that's done at low intensities is also easier to recover from, meaning you can progressively increase your mileage without increasing your injury risk. 
Using the graphic above as a guide, training in this format would fall into exercise intensities 1 and 2. 
One of the most important principles of any successful exercise plan is specificity – this means using training methods that will have direct carryover to your goal event. For example, if your goal is to run a 10k, we'd need to include some sessions that focus on working around your target 10k pace.
Depending on the length of your event, this could be done in the form of interval training. To continue using our 10k runner as an example, a specific 10k session might involve intervals of running at your target 10k pace, interspersed with periods of rest.
As the event gets closer, you could progress the number of intervals you cover in your session, challenging your ability to hold your target pace for longer periods. Alternatively, you could increase the speed of your intervals to just above your target 10k pace, increasing your exposure to faster running.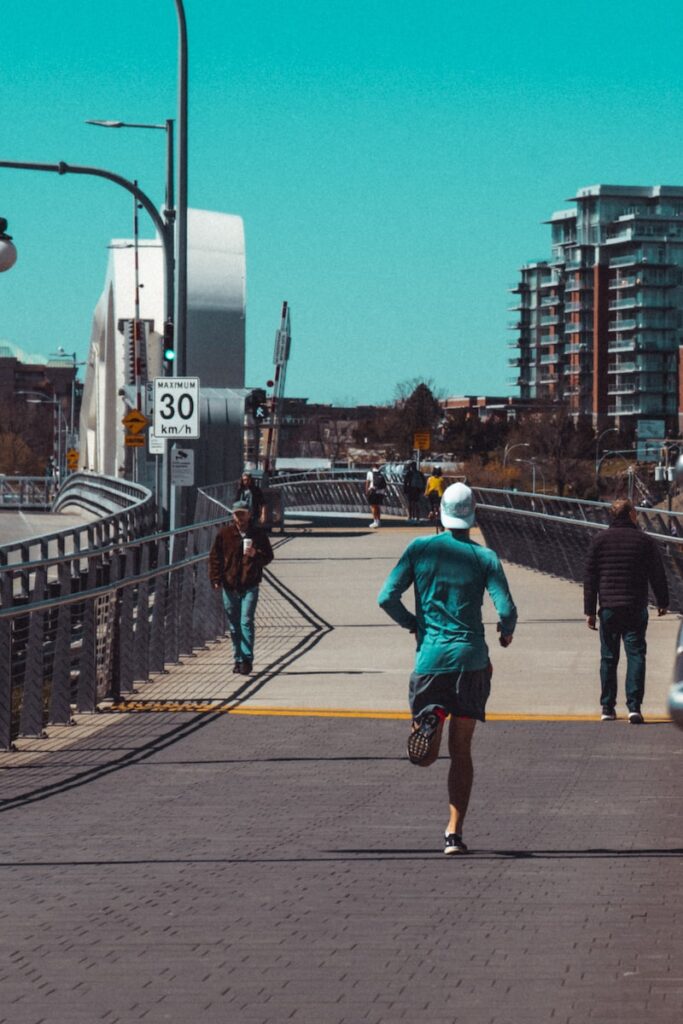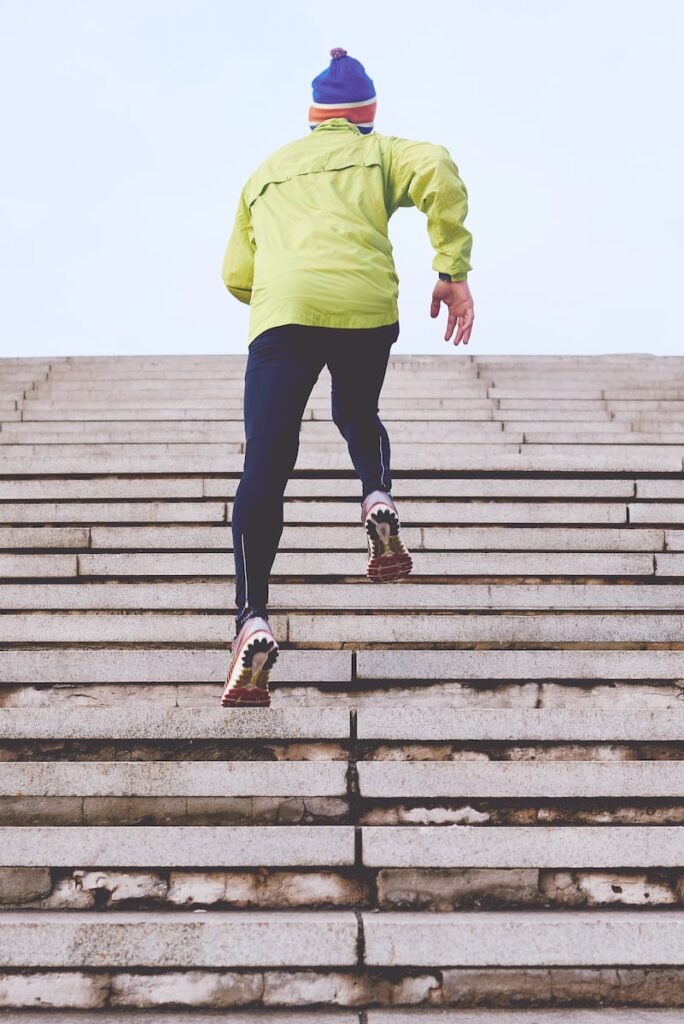 At the start of a training plan when motivation is high and you're raring to go, it's easy to get carried away and push too hard. However, this is rarely a successful strategy, even for seasoned runners.
If you plan to train for several months, we've got plenty of time to get you to where you need to be. The goal is always to peak for the event, and arriving at your best any sooner than that is wasted energy. 
Our recommendation is to start slowly. Aim to keep the easy runs easy and leave the higher-quality sessions for the latter weeks. As we discussed in point number 1, you build your engine by training at slower paces; don't skip this step in favour of running quicker and pick up a niggle that derails your plans. 
Your running training plan needs to make sense on paper – if frequency of sessions, distances covered, speed, or intensity is ramping up too quickly, you run the risk burning out before the start line. 
If you need some help building a running training plan, speak to a member of the Summit Team and see if we can help! We work with a lot of runners and understand how important your physical goals are. Our goal is to keep you active and doing the things that you enjoy!
If you're struggling with an injury that's stopping you getting back into exercise, call us on 0800 731 2738 or book online here. 
If you need some help designing a program that will keep you exercising, get in touch at https://www.summitphysio.co.uk. We also offer Strength and Conditioning services, including bespoke training plans and 1 on 1 coaching.
For more free tips and information, make sure to follow our Facebook and Instagram pages. We also post client stories, so you can see how we've helped people get back to doing the things they enjoy!