Introduction
Running during the winter has many benefits. Running at any time is a great way to keep our mental health good, get out in the fresh air, keep our Vitamin D levels topped up and keep our immune systems strong.
So, with all the benefits of running the last thing you want to do is get injured! We have put together some tips for you to utilise to avoid injury, carry on with your great winter runs and stay out of the physio room.
Step 1: Correct equipment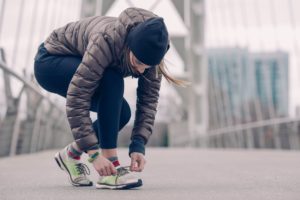 Wearing appropriate footwear is advised for running at any time of the year. But, especially with winter running. It is important that you have footwear to suit and support your footwell. Also, it can provide enough grip if you are running on icy/wet surfaces. You may want to consider insoles or orthotics, such as the orthotics we can prove here at Summit.
Step 2: Keep Warm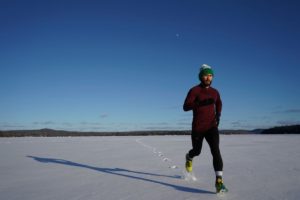 It may sound obvious but the first tip is to wrap up and wear plenty of layers. Make sure your body is warmed up before you go straight into your run. If you set off into a run feeling cold and with cold muscles that could increase your risk of injury. Alongside making sure you wrap up in lots of layers it would be a good idea to add some exercises to increase your heart rate. Some ideas of exercises to increase your heart rate and blood flow are skipping, fast-paced walking, fast-paced side-stepping and jogging on the spot. Your warmup should ideally take 6 minutes as a bare minimum.
Step 3: Stretch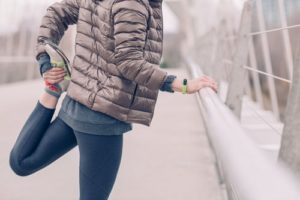 As well as doing exercises to increase your heart rate and blood flow to the muscles it is recommended that you also do some dynamic stretches.  Dynamic stretches are different from your static stretches. They work on improving mobility while moving through a range of motion, whilst static stretching involves holding a muscle in a stretched position but without any movement.
Some great dynamic stretches you can do before a winter run are: hamstring sweeps (great for those who suffer with hamstring tightness), alternative calf raise and lowering (great for those who suffer from lower limb issues), leg swings to the front and back of the body and the inside to outside of the body (great for those who suffer with hip/groin tightness). You can also add lunges and squats to your warm-up routine to increase activation of quadriceps and gluteal muscles which are very important strength muscles for running.
Step 4: Cooling down
After your run, it is worthwhile doing some static stretches and foam rolling as part of your "cool down" routine. Static stretches help to improve flexibility, improve range of motion, and prevent cramping and Delayed Onset Muscle Soreness. After running it can be advised to stretch the main muscles of your legs (calf, hamstring and quadriceps and gluteal muscles).
If you've up an injury whilst out running, take advantage of our free 15-minute assessment: https://bit.ly/2QzsKRH 
We have joined forces with Limitless Triathlon Coaching in order to put together a free Marathon training plan: https://bit.ly/36yuz70