Knee Injuries on Skiing are the most common skiing injury. This blog we explore which knee injuries in skiing are the most common using up to date evidence.
It is well established that the knee injurie in skiing account for about a third of all skiing injuries.
In our last blog we explored some of the different types including the Medial Collateral Ligament (MCL) and Anterior Cruciate Ligament (ACL). In this article we detail the most common knee injuries in skiing.
Knee Injuries In Skiing
A 2021 research paper explored the most common knee injuries in skiers from a large Sports Injury clinic in Austria. This is helpful for us to understand the actual damage caused as each skier were diagnosed by a MRI scan. It's also to accept that not all those on the slopes would have gone for medical help. Those who may have minor sprains and strains could have well waited to return home for treatment. This is certainly what we see at Summit.
In the article they found that injury to the ACL was involved in majority of knee injuries who attended the clinic. Alongside the ACL were the additional damage to the MCL, Lateral Collateral Ligament (LCL), Lateral Menicus, Medial Menicus and articular cartilage (which lines the bones of the thigh bone, shin bone and knee cap).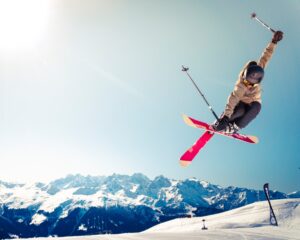 This combination of the ACL plus another structure accounted for 64.5% of the injuries. Where ACL was the only injured structure accounted for 35.5% of knee injuries in skiing. Of these isolated ACL injuries occurred 35% were partially ruptured which means 65% were of a complete rupture.
This evidence highlights that the ACL has overtaken the MCL Injury as the most common knee injury in skiing.
Furthermore, it suggests that if you have injured you knee skiing, then you could have also damaged your ACL. This could have a potential to increase the risk of future injury. We would recommend seeking a healthcare professionals' advice and guidance before your next ski trip!
The Knee
The knee is a hinge joint that also can partly rotate.
The Bones
It consists of the Femur (thigh bone) at the top, with the tibia and fibula (shin bones) making up the bottom. In addition, the patella (knee cap) works as a pulley to make the knee a very strong and efficient joint.
Knee Ligaments and Cartilage's
It has held structurally strong by ligaments which run down each side of the joint (medial and lateral Collateral Ligaments) and it has two that run through the middle (anterior and posterior cruciate ligaments).These four ligaments are all incredibly strong and can resist a lot of force.
Within the knee we have two very effective shock absorbing cartilages. The medial and lateral meniscuses. These are also very robust structures. Surrounding all of these are a combination of muscles which all work together to create an incredible strong and stable joint.
The Knee is Robust
These muscles allow the human body to perform some incredible things. The relationship between the ligaments, muscles and other structure in and around the knee are the reason we can ski at high speeds, or we can jump over moguls. It's the reason we can plough slowly down a nice green or blue slope or the reason we can come to a skid stop when we want. Unfortunately, has highlighted above knee injuries in skiing can occur. This is why it is important prior to travelling to the slopes you get as prepared as possible.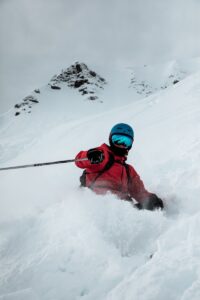 Preventing Knee Injuries in Skiing
It has been suggested in our common injuries blog and in many articles that you can prepare your knee for skiing. Due to the nature of skiing, the falls, type of snow, other skiers injuries will occur. We even once had a patient who's grandson skied into him while is was stationary, which caused a complete ACL rupture requiring surgery. Therefore, we cannot suggest that you wont injury yourself. We can though say that we you take control of preventable knee injuries that can occur when skiing.
But you can ….
Ensure that you are legs and lower back is strong. This can be done by simply training 2 -3 times a week. You can exercise at home or even better in a gym. For suggestions head to our Instagram account
Make sure you improve your cardiovascular fitness. Fatigue can play a part in falls and injuries. Therefore, the fitter you are when you ski the chance of a reduction in falls. Plus you enjoy the holiday even more.
Get previous injuries checked out. As this blog highlights the ACL could be injured by previous injury so make sure you get yourself assessed by a healthcare professional
Equipment fails are one that is shown to cause injury. When you are getting your boots and skis fitted ensure your bindings are correct for you. Failure of binding release is a major factor for serious knee injuries.
Stay hydrated and fuelled. When we are out on the slopes we burn vast amounts of energy. Therefore, to remain in optimal ski performance state ensure you eat and hydrate regularly while out on the slopes. Especially before you hit the après ski!!
Check out our free injury advice guides