Skiing is a very popular winter sport. It is also a sports which can be attributed to many injuries. This blog intends to explore the most common skiing injuries.
Most Common Skiing Injuries
In Skiing there has been a strong link between common skiing injuries and ski equipment. Changes in equipment such as the change of the shape of skis, changes the skiing style and the potential new adopted positions of the knee. Increasing the risk of injuries to the knee.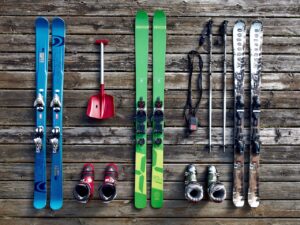 A study from Japan in 2018 taken over 18 years and involved over 3700 participants found the most common skiing injuries to be of the lower limb (57.4%). Followed by injuries to the upper limb (23.4%). Then head/face (10.3%) followed by truck (8.9%).
In the study the site of the most common skiing injuries was the knee, followed by the femur (thigh bone). Then Head/face, the ankle and the shoulder and shoulder blade. 
Of these common skiing injuries sprains such as ligamentous injuries were the most common followed by fractures, the lacerations and contusions. 
Most Common Skiing injuries over time
Interestingly in this study that looked at most common skiing injuries over time, knee sprains remained consistently the most common skiing injury. 
The other common skiing injuries which include head and facial lacerations and contusions, lower leg fractures, clavicle (collar bone) fractures, Ankle sprains, shoulder dislocations and spinal injuries appear in different order throughout the years. 
Most Common Skiing Injuries in Children
A 2005 study by Brent Hagel reports that Skiing is a sport that leads to most common injuries in children. He reports that the Most Common Skiing Injuries on Children are that too of the lower limb. These include injuries to the knee. He discusses that the cause of these injuries are due to the torsion mechanisms undergone by the lower body whilst skiing. 
Hagels study also highlights that neck and spinal injuries account for 2.9% and 7.7% of the common skiing injuries. 
Most Common Skiing Injuries – Lower Limb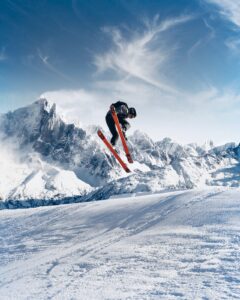 A Review article in the Sports Medicine Journal  agrees that the knee is the most common skiing injury. It reports that knee injuries account for 30% of all injuries in adults. Of these knee injuries, the Medial Collateral Ligament (MCL) and Anterior Cruciate Ligament (ACL) have similar incident rates of 18% and 16% respectively.
It appears that almost every ski injury related study reports an association between knee injuries and the failure for the bindings to release. Although newer bindings have seen a reduction in the severity of some knee injuries it appears that there is no changes to the ACL injury rates.
Most Common Skiing Injuries – Upper Limb
The most common upper limb injury is that named Skiers Thumb. This is a injury to the ulnar collateral ligament of the thumb and accounts for a third of upper limb ski injuries. This often occurs from a fall with an out stretched hand with a pole in the hand. 11% of upper limb injuries are associated with the shoulder. The most common of these being the rotator cuff and dislocations and subluxations. These are closely followed by acromioclavicular separations and clavicle fractures.
The most common mechanism of shoulder injuries are from falls. These can sometimes been associated with the pole misplacement.
Considerations for Injury Prevention for common Skiing Injuries
As there is a high association between ski bindings and knee injuries, ensure you get your bindings correctly assessed and adjusted where necessary. Another equipment consideration is ski poles. It has been suggested that how you use your wrist straps and even where possible get poles with wrist strap releases.
If you are less experienced than other skiers on your party consider getting some lessons. Evidence has shown more experienced skiers fall less frequently. This has been shown to help prevent both upper and lower limb injuries.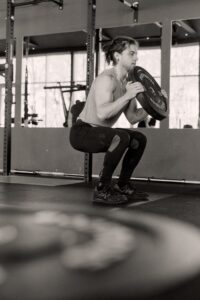 There is also a considerable amount of evidence around doing some proper conditioning before you go skiing. It is widely recommended that increasing your strength and endurance will help brace joints if you fall. Along side this, flexibility and agility based exercises can help reduce the severity and frequency of injuries. The focus of most of these strength programmes should focus on the legs and back.
In some studies there is evidence that fatigue is a factor. Therefore, while skiing take a break when you become tired or recognise when you are fatigued and reduce the intensity of your skiing.
If you are looking for a pre ski programme we are happy to help. Everyone at Summit wants to see our clients enjoy their holiday and ski with confidence. So if you are suffering from a injury and want it sorted before you go or want to be pro active and become better prepared then call us on  0800 731 2738 or book online at here 
If you are looking for ideas and tips to stay fit over the ski season make sure you follow our Facebook and Instagram pages